3 Celebrity-Approved Fall Hairstyle Trends
0 comments

2158 views

0 upvotes

0 guides
Posted by Casey Nicole on September 14, 2012 at 7:23 PM
Celebrities aren't just for entertainment with their catchy songs and gossip topics. They're always attending Fashion Week, so they definitely get a sneak peek at what's in, before us. So, take a hint from your favorite stylish celeb and try out some new hairstyle trends. You'l definitely want to bookmark this page for your next salon visit and anytime you're lacking inspiration. 
Trend: Blunt Bangs 
As Seen On: Zooey Deschanel, Katie Holmes, Rose Byrne, Tayor Swift, Katy Perry, and the list goes on...
Many of the hottest Fall 2012 runway shows had one striking statement in common: blunt bangs. Straight-across fringe was featured on Versace, Marni, and Elie Saab models, and quickly appeared on the Hollywood crowd. If Zooey Deschanel hasn't already inspired you to take the plunge, the rest of these celebs should be proof that anyone with any face shape can pull off this look. Plus, fall is the perfect time to reach for the scissors and cut bangs. You'll be able to keep them trimmed all winter long, but grow them out come spring so they'll be long enough to push aside by the time summer returns. Go ahead, book your hair appointment now. 
While the examples above are sleek and straight, don't be afraid to let things get a little messy. Skip the flat iron and let your messy bangs fall where they may. This piecey, slept-in and carefree style is still on trend and might be more flattering with your naturally curly hair, anyway. Allow Miss Deschanel below, to be proof. 
Trend: Ornate Hair Jewels
As Seen On: Kristen Stewart, Kirsten Dunst, Kim Kardashian, and Jennifer Lawrence
Something about fall and the upcoming holiday season always brings out a little extra bling on the runway. This season, the ornate accessories just happened to appear with the hair. Baroque headbands were featured atop otherwise sleek buns on Dolce & Gabbana, while "shooting star" barrettes were fastened onto faux bobs at Rodarte. The jewelry takes something basic, like a bun, and turns it into something exuisite and unique. 
Stewart and Lawrence both appeared on the red carpet with gold chains interwoven in their hair, and Dunst looked like an ethereal princess with a pearl and floral headband. You don't have to be a celebrity with a jewelry hookup to try this style yourself. Forever 21 has caught on to this trend quickly and you'll find plenty of beaded applique headbands and other options galore on their website. You can even DIY a gold chain yourself with this tutorial via thebeautydepartment.com.
To keep the focus on the pretty hair jewels, a smooth base is needed. Work a few drops of argan oil into dry hair to nix flyaways and frizz.
Trend: Sleek Braids
As Seen On:Jennifer Lawrence, Jennifer Lopez, Penelope Cruz, and Diane Kruger
Let's blame (thank) Katniss for this one. Braids aren't going away anytime soon. A pulled-back braid looks fierce, but still feminine. All forms of plaits were seen on the runway at Ferragamo, Marc Jacobs, Max Mara, and Pucci. Then celebrities brought their own versions to the red carpet.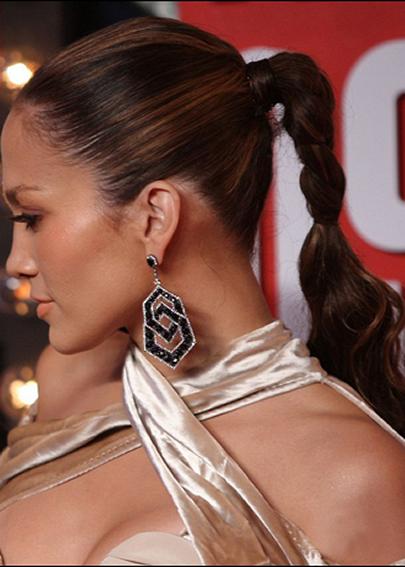 This classic braid is a function, chic alternative to a basic pony. To try this at home, work a serum through wet strands and blow-dry for a smooth finish. Pull hair into a hard side or middle part, and fasten a ponytail at the nape of your neck (or higher). Weave hair into whichever braid is easiest for you and finish with a second hair tie.
Which is your favorite fall hairstyle trend? I think I'm too afraid to pull off blunt bangs, but I am definitely going to to get myself some ornate headbands! Let me know what you're going to try in the comments below!