Music Festival-Worthy Hairstyles to Inspire You for Coachella and Beyond
0 comments

18088 views

0 upvotes

2 guides
Posted by Becky Lake on August 4, 2012 at 12:41 PM
Music festivals provide the ultimate outlet for expressing your personal style. While it's probably not the time to pull out a larger-than-life fascinator or formal French twist, it is, however, the ideal moment to showcase your free-spirited ways. So pack up your bags with your music fest beauty and fashion essentials, and try these seven hip ways to show off your coiffure for Coachella and beyond.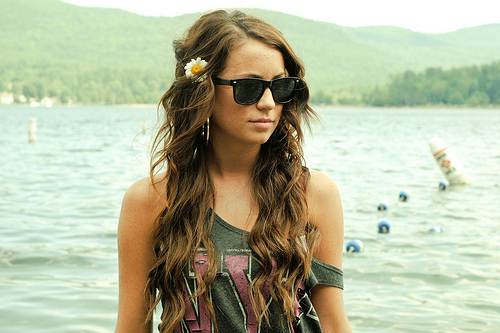 Flower Power
For the ultimate in casual-chic, scrunch your hair with your fingers when blow-drying, focusing the dryer's nozzle's flow away from your face. Finish by affixing a floral hair accessory off to the side.
Bobbing About
Have a cute bob? Stick with your natural texture when styling…create a tousled effect with a sea salt spray, and top it all off with a bejeweled headband.
Bevy of Barrettes
A simple, straight style looks even more interesting with a bunch of barrettes stacked in formation – whether you keep your hair down or pull it up. A bonus? This style keeps hair off your face so you can enjoy the festival without hair-hassle.
Pretty Plait
Side braids are a music festival staple. Make yours stand out from the crowd with a hipster-cool accessory.
Or a bow.
Hey Shorty
Short-haired styles look even cooler when paired with a boldly colored headband or hair wrap. 
Haute Hippie
Channel the hippies of the past with an easy headpiece. You'll have breezy, stylish look in a flash.
Fun Bun
The so-called fun bun trend shows no sign of stopping. Make the look all the more easy to style with our tutorial here.