UGH: French Editor Defends Topless Photos of Kate
0 comments

1166 views

0 upvotes

0 guides
Posted by Katie Ostoich on September 15, 2012 at 12:29 PM
I'm sure you've all heard of and/or seen the topless photos of Kate Middleton. Ugh. I really feel for the girl. I know when I go to my friend's private chateau in the south of France I also like to sun bathe topless and I certainly never expect the paparazzi. K Midd did nothing wrong here. Clearly, she was in private and topless beaches are the norm in France so the fact that she followed custom and didn't want to get any tan lines is not shocking at all. What is shocking and wrong is that some paparazzo with a telephoto lens infringed on that privacy.
Or I guess it really shouldn't be shocking. Especially when the people at Closer (who published the photos) are so quick to defend themselves using the exact same argument I just made. Ugh. Just because we all agree it's not shocking doesn't excuse your creepy and all-around shi*ty behavior.
I have to admit, I looked at the SFW versions of the photos, and though the princess's girls were blocked out, I can say the most shocking thing about those photos was that her hair still looks absolutely perfect while she's tanning and Wills is super cute and puts on her sunscreen for her like a super cute husband should.
This is no drunken-Vegas-strip-pool event, mmmkay. Which is why I tip my hat to the British press who are decidedly not publishing these photos. Shame on Closer.
Our verdict: UGH. Will the paparazzi ever go away? You'd think the French corps would give the royals a wide berth considering Diana.  Very rightfully, the royal couple is hurt and angry that someone would violate their privacy and feel like a line has been crossed. I hope they press a ton of charges.
By the way, one of the best things that came out of this was a topless Kate meme that is pretty awesome. In a show of support, numerous Twitter users have started to circulate their own "topless photos" of the Duchess -- images of a fully-clothed Kate cropped at the upper body. Ha.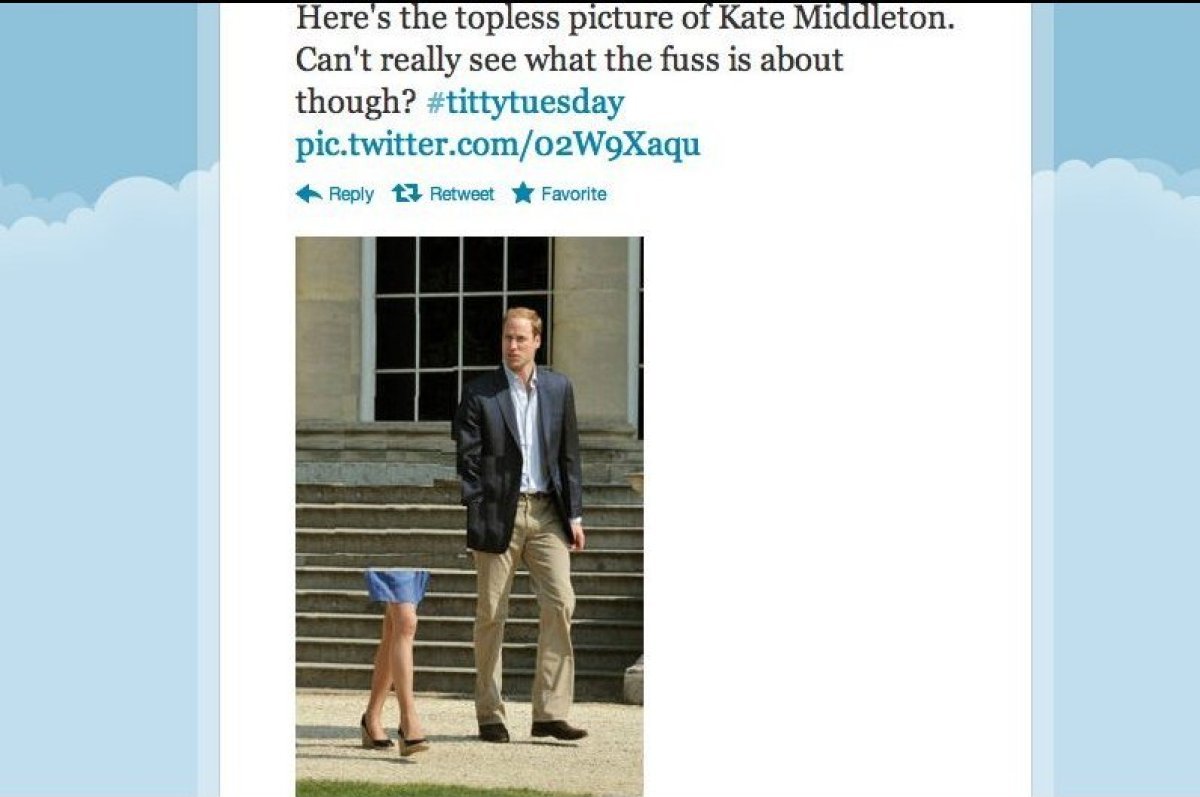 What do you think? Do you think this was a gross infringement? Or do you think that people who are in the spotlight should be aware they are probably always watched (like in the K.Stew scandal)?