WTF? Ursula The Sea Witch Gets Some Work Done
0 comments

2044 views

0 upvotes

0 guides
Posted by Katie Ostoich on July 1, 2012 at 11:55 AM
Ok, so now it's not just real models who have to slim down to be part of the fashion world; fictional characters, like Ursula the Sea Witch, are just too fat to sell beauty products. But luckily for Ursula, she didn't have to crash diet or logs hours in the gym to get her newly-svelte figure up to par for the new Disney Villains Beauty Line. Which is fortunate…but doesn't really make the decision to lighten her skin and give her lipo a particularly responsible one by Disney.
It seems that Disney's princesses are a little played out so to appeal to modern girls, they keep having to go back to the bad girls to give the company any kind of diversity (and well, fun factor)–except that they still can't let in any real differences.
As Bella Sugar points out, this isn't Disney's first time highlighting the always-cooler-than-the-protagonist villains–but it is one of the few times that Ursula has actually been included. Usually, among the rail-thin evil ladies, the full-figured Sea Witch is nowhere to be found. Or if she is, she's relegated to the corner behind Maleficent or someone.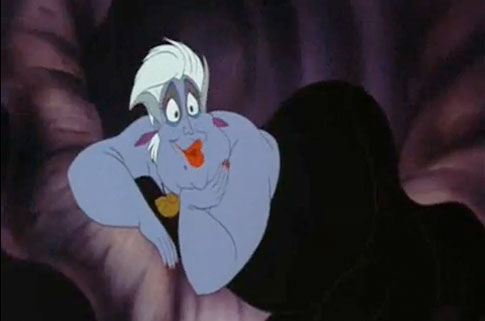 Also of note: It looks like Ursula has also gotten a facelift/put into a time machine that made her look about 20 years old–which is interesting, considering a study at BYU found that Disney's villains, many of which appear to be over the age of 55, make children feel negatively about older individuals. Who knew?
Our verdict: WTF? It's a bummer that Disney couldn't have taken this opportunity to include a more diverse range of body types among their villains, who, pretty much across the board, play directly into the weight stereotypes that many women hold, regarding thin, mean women and fat, lazy ones. Plus, Ursula was a bad ass, overweight or not. Why would you change a character so drastically?
How do you feel about Ursula's makeover? Would you have liked to see her appearance stay similar to what you remember from the movie?